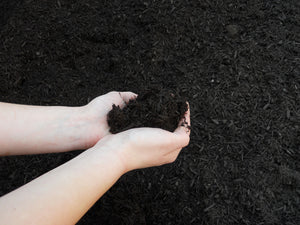 Grandscape Triple Brown Hardwood Bark Mulch Per Cubic Yard
Hardwood Bark Mulch Triple Shred Size
Our trucks can carry up to 15 yards of mulch per delivery. If you need more than 15 yards, we will contact you to process the additional (discounted) delivery fee. (Discounted delivery applies to material ordered at the same time.)
Dark Brown Color
Organic Vegetable Base Dye 
This product is also available in bags 
DYED MULCHES
Dump dyed mulches on tarps to avoid discoloration of concrete. If a tarp is not available, wet the surface and then wash the area with soap and water after the mulch has been moved.
Avoid exposing dyed mulch to rain or sprinklers for 24-48 hours after applying mulch to your landscaping.
If dyed mulch has been delivered and rain is expected, do not spread the mulch. Cover it with a tarp until there will be 24-48 hours of no rain.
Rinse landscaping tools immediately after use to avoid staining and use gloves when handling dyed mulches.
In the event that the dye dries on surfaces, use SimpleGreen® cleaning solution to remove stain.
Dump Truck Delivery Available
Bulk Orders placed for local dump truck delivery must be a

minimum of 2 cubic yards or 2 tons

of the same material. 

Specialty gravels have a minimum of 1 ton. (Specialty gravels include gravels $99 per ton and over.) 

Maximum amount per truck is 6 yards or 6 tons for Sand, Gravel, or Soil. Maximum amount of Mulch is 15 yards.

 

If your order requires additional truckloads, an invoice will be sent from the online store for additional delivery charges. Each additional delivery charge will be a discounted rate. For instance, an order that required 2 truckloads, the first truckload would be included in your cart during checkout, the 2nd truckload would be $10 less than the first truckload and an invoice will be sent to your email. Please click on the "Pay" button to complete the transaction.
Delivery Areas Available for Online Ordering
We are only able to schedule local deliveries via online ordering for now. If you do not see your area listed below, please go here to see if we deliver to your area and then contact us via phone to place your order.