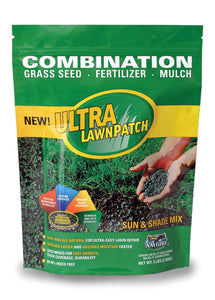 Ultra Lawn Patch Amturf 5lb
When you're patching the inevitable bare spots in your lawn, choose Ultra's all-natural products. This safe and biodegradable product spreads easier and absorbs moisture faster than any other combination product. Safe for kids and pets.
• Premium seed, natural fertilizer and mulch all in one package.
• Produces new growth easily and quickly.
• Revolutionary granulated mulch helps hold seeds in place.
• Seed mixed for fast growth, thick coverage and durability.
• Reclosable zipper bags.