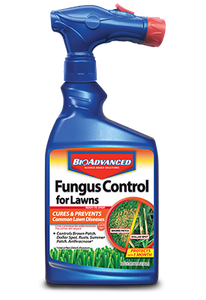 Fungus Control for Lawns Bayer 32 oz RTS
BioAdvanced® Fungus Control for Lawns
32oz Ready to Spray with Hose-End Sprayer - Treats Up to 5,000sq ft
Cures and prevents common lawn diseases. Works systemically to protect for up to one month. Controls red thread, brown patch, dollar spot, rusts and others. Weatherproof protection. Active ingredient: Propiconazole.