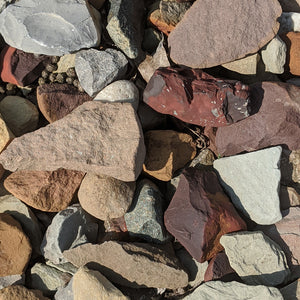 Crushed River Rock #34 1/2 cubic foot bag
Up to 3 inch diameter - Crushed jagged edges
IMPORTANT INFORMATION REGARDING GRAVEL COLOR VARIATIONS & DUST
Gravels are natural stone that has been quarried from all over the world. As a natural product they are prone to variations in color, size, and shape. We have no control over the consistency of the product. No two loads of gravel will be identical, as the same gravel is frequently quarried from different veins of the same quarry or from different quarries, depending on availability. Because all of our gravels are natural products made available by excavation or mining, please expect that the gravel will be covered in some amount of dust or sand which will rinse off either by rain or by using a hose.
Add-on Delivery Item
This item is available for pickup or as an add-on delivery with qualifying dump truck order. 
Bagged Stone is sold by volume, not weight. Each bag is approximately 40-50 lbs, depending on the variety of the stone.