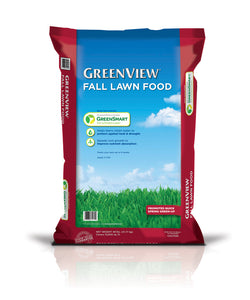 Fall Fertilizer Greenview 22-0-10 15M
Give your lawn what it needs for one of the most essential times to fertilize, fall.
Your grass will be heartier, and ready to withstand the stresses of winter. Feeds your lawn for up to 8 weeks, so you can get it done, and be done with it for the season.
Unique GreenSmart ingredient helps speed root growth to improve nutrient absorption so lawns are better able to retain water to protect against heat and drought.
Promotes early spring green-up.
Restores nutrients to your soil, providing overall better nutrition for your lawn.
Coverage
16 lb bag covers 5,000 sq. ft.
48 lb bag covers 15,000 sq. ft.
Best time to apply
Apply during the fall season, before the first hard freeze.
See the label for complete instructions