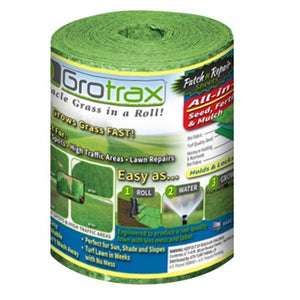 20sf Patch Repair 80 sheets
Grotrax™ All-in-One Year-Round Green Seed Mixture
Patch N Repair Sheets - 20sq ft / 80 Sheets
Grotrax combines exceptional seed blends, mulch, and fertilizer between two moisture holding Bio Fabric layers for fast germination and uniform growth. Simply roll, water, and watch it grow! Grotrax merges seed science with high tech turf technology by embedding thousands of seeds into a biodegradable, high absorption compost fabric that retains water, keeping seeds moist and secure, leading to grass that grows faster, thicker and fuller.