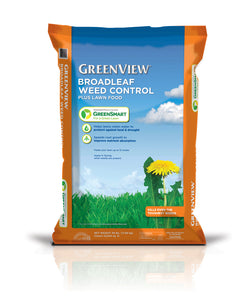 Broadleaf Weed and Feed Fertilizer 27-0-4 15M
Long lasting zero phosphate fertilizer feeds your lawn for 8 weeks and controls broadleaf weeds including dandelion, clover and plantain. GreenSmart is the smartest way to give your lawn the nutrition it needs by speeding root growth to improve nutrient absorption Kills and controls over 250 listed weeds, including dandelions, clover and plantain Helps lawn retain water to protect against heat and drought.
Best time to apply
Apply when broadleaf weeds are actively growing in spring or early fall.
Mow lawn to normal height, 1-2 days before application
For best results lawn must be MOIST and the air calm when product is applied. When the lawn is moist, the product granules stick better to the leafy parts of the weeds, ensuring that the weed-killing ingredients are absorbed by the weed plant.
Apply after a heavy dew or rain, or on a thoroughly watered lawn.
DO NOT apply to a moist lawn IF rain is expected within 24 hours of application.
DO NOT water in immediately after application as the granules need to stick to the weed plant leaf for 1-2 days to be most effective.
Avoid applying when temperatures are consistently above 90F.
After a 1-2 day period after application, if it has not rained – the lawn should be thoroughly watered.
See the label for complete instructions.